Monday, October 28th
4:00 to 6:00pm
Hearst Memorial Mining Building, Room 390
Admission is free and open to the community
A Chance in the World: An Orphan Boy, a Mysterious Past, and How He Found a Place Called Home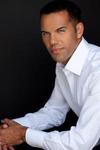 Join us for this special event featuring Steve Pemberton, a child advocate, motivational speaker, and author of A Chance in the World.
Steve Pemberton is a trail blazing Corporate Executive, Child Advocate, Motivational Speaker & Author of A Chance in the World (Harper Collins). He currently serves as the Chief Diversity Officer and Divisional Vice-President for Walgreens, living a very different life than the one initially envisioned for him. He has become recognized as one of the nation's leaders on matters of diversity and inclusion and its importance to the growth of the American industrial complex. Considered one of the top Chief Diversity Officers in corporate America, Steve's vision and leadership is changing corporate culture and bolstering productivity in the workplace.
A ward of the state for much of his childhood, Steve has made opportunity, access and equality pillars of his personal and professional life. He is recognized as one of America's most inspiring executives. His unconventional journey to corporate America has had a profound influence on the lives of others, inspiring young people and professionals to overcome challenges and create a path to a brighter future. A Chance In The World: An Orphan Boy, a Mysterious Past, and How He Found a Place Called Home is Steve's riveting memoir that chronicles his difficult path through foster care and determined search for his family. His relentless journey to overcome, find his biological family, and right the wrongs of his parents' past, is a model for many families to follow. His powerful story has been featured by People Magazine, The Boston Banner, The Boston Herald, Crain's Chicago Business, Chronicle News Magazine, and multiple news networks across the country.
Steve currently serves on several boards including The Home for Little Wanderers and UCAN to provide guidance and inspiration to children in need. The Pemberton Fund ForThe Future has been established in his name at The Home For Little Wanderers to assist children aging out of the foster care system.
Steve is a graduate of Boston College. He is married and has three children.
Event Sponsors